Data Ingenious Global Limited: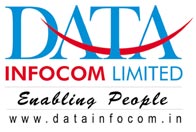 Data Ingenious Global Limited is housed at the peak of IT & ISP Company in Rajasthan. We hold the honor for being the largest Internet Service Provider in the state. We have now widened our coverage in North India; it has now wrapped Uttar Pradesh, Uttranchal, Madhya Pradesh and Delhi within its service network.

We are sheltered under the roof of Data group of industries with an annual turnover of over 600 crores. As a leader in Internet solution, holding more than 70% of market share, we are in quest to revolutionize the way people use Internet to communicate, conduct business, gain information, and carry out transactions. According to latest TRAI (Telecom Regulatory Authority in India) report we have the 5th Largest subscriber base in India. Our key to growth is the introduction of higher dimensions of technology to meet customer needs.
Under this profile we provide internet gateway to North Western Railways & also provide support to their network. We are running an IT enabled fully dedicated consumer service Call Centre on behalf of Jaipur Vidhyut Vitran Nigam Limited for all sorts of current complaints and queries.

We are/were official mail solution provider for Government of Rajasthan on the portal www.rajasthan.gov.in We made a global web portal for department of tourism, www.rajasthantourism.gov.in & also made the biggest database portal www.rajshiksha.gov.in for Lokjumbish under "Shiksha Aapke Dwar" campaign, initiated by Government of Rajasthan.